I want a tent city for my group.  One like this: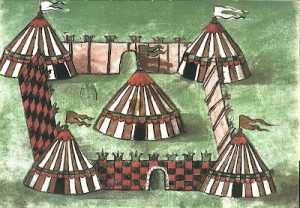 There are certainly more elaborate ones I have seen, but this style seems the most suitable to what I do . Although considering the Company colors are Blue and White, perhaps a different color scheme is in order. I have seen a number of tents that would look good in this city. One that I have seen lately is this:
It is a double bell wedge from Midwest tents, I wonder if they would be willing to make me walls as well? Hmmmmm…..