Thursday I received a new hammer from Tinman Technologies I haven't gotten it all working as well as I'd like, Kent says I will need to shim it a bit, but it is amazing the power that it possesses. I can't wait to try some of my idea with it. It has enough power to raise 12 gauge cold. I am planning on trying to make some of the elbow and gauntlet parts  by raising rather than cut and weld. We will see if that can save me some time.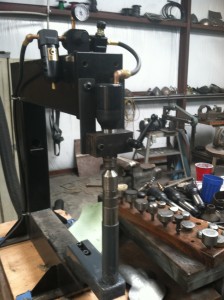 I will be rebuilding my armorers-supply.com website as soon as Pennsic is over with, in an attempt to offer the armoring world a place to buys tools and cut parts, patterns and such, This is for guys getting into armoring as well as experienced armorers who need to get parts cut and shaped. By using both the Pullmax and the Air hammers, I will be able to supply basically shaped parts for people to finish on their own. With the new battle of Nations thing going on, I expect it will increase the interest in real armor throughout the US.
Hope so, the hammer was expensive.