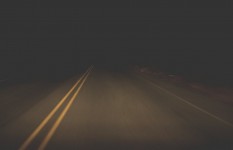 I have come to a realization that I would like to share with people. I have no real way to tell it other than to tell a story that I perhaps would rather not tell as it shows me as being stupid. So here goes. This is my second event taking horses. I have my horse and another ladies mare who I have picked up en-route along withe her lady. We are at site and have let out the horses in the paddock surrounding the barn. The lady who was with the mare had walked around back and saw that there was no way out of the paddock, a gate blocked the way. So when our horses, who had begun chasing each other around, disappeared behind the barn and didn't come right back, we set out to see. we found out that the gate did not completely block the paddock and we followed quickly to see if the other sides gates were open. They were, and so we the next gate and the next thing I see is my horse following her mare heading out into the parking lot. Out the driveway past the first gate. It was a hundred yards to the gate and probably 200 down the driveway, which opened on a busy highway and there went my horse at a gallop.
So I ran. I ran fast. I ran faster than I ever realized I could. You see I love my horse. No in any bestial crazy way, but in a fatherly way and a best friend way. I always laughed when people said they loved their horse, but I understand why now. And so I ran. I passed a younger woman and guy who were also running. I think they were worried that they might spook them on, but I knew they were just running cause it was fun, and they were headed to the highway. In fact they beat me there by 100 yds at least. I saw headlights coming from both directions. I then did something that surprised me. I ran faster.
Now to give you some background on me. I am 46 for another month, I have very little or no cartilage in the joints of my big toes. Gout has worn it out. I didn't realize what it was and remained active. I have a big tufa on my elbow as well. So lets say I am not an avid runner. I haven't run in years. I was also operating with a foot that hadn't recovered from a roll over that torqued the ankle and metatarsals.  I used to run, I was very good at it. but ankle injuries, knees, gout, plantar faciatis, have kept me from running. I was also running in heavy work boots.
I am not saying I ran 9 sec 100yd dashes. but I was moving as fast I as  ever remember running for any real stretch.
So I made it to the hwy. Lights were passing in both directions, and I spot the horses. They have gone left, and thank god, not crossed the road. I started running in their direction on the other side of the road waving my flashlight at any oncoming traffic.
Guess what, the adrenaline rush wore off and I realized how totally gasses I was. I have never really come back from the broken arm and then the finger getting messed up. My stamina was non existant.  I could feel my heart rate in my head and I was having trouble catching my breath.
I then had a vison, induced by a horse screech, of my horse being hit by a car and dying or being crippled. And again I ran. I just simply decided my horse would not be dead on the road because I was gassed. I wasn't moving so fast now. I couldn't see anything, even when there was traffic. Then I saw them behind me on the other side of the road. Thankfully they had never crossed, and they had headed back inland before realizing that they couldn't get through that way. The horses were heading back again, and my friends got them to slow up, and we were able to get hold of them. I walked my horse back and my knee were shaky which I totally attribute to the running.
"Now, pray tell, what is the story about, other than your stupidity and your ability to almost kill yourself" you say.
And here is my realization. This is what makes athletes, ATHLETES. Through a personal drama (which I would prefer to never repeat) I was able to perform at a level that I had no Idea I could. It took fatherly worry and love to bring out that kinds crazy performance. Athletes are people who can dig inside themselves that deep, simply out of pure drive.
It is there. That ability to do it till it kills you. Everyone possesses it. If the stimulus is strong enough, you can tap your inner strength and bring out great physical reserves.  We have all heard stories of mothers lifting cars off children and sons lifting cars off dads. This is a survival trait. It is bread into us. Those early men who could harness a reserve to  save their life, lived to prosper. Those traits get the right to be passed on.
We have always had heros. Men who have passed to mythology from their great deeds. What does it take to become a hero? The ability to take on 10 men and win. The ability to beat one man and the ability to draw on the reserves to fight the next man and the one after that.
I think many of our modern athletes have the ability to just reach inside and demand a little bit more, when they are already doing all they think they can do. It is a confidence based on practice. It is something that even we who are amateur athletes, and full time warriors, can learn from.
Training is learning to tap that reserve. But first you need to know the reserve is there, and it isn't bad to know just how deep that reserve is. That is what I found out.  Don't think just do.
As an aside, I think courage is the ability to tap a phycological reserve (more likely the same one). It is the ability to just do what needs to be done. To move ahead even when the odds are very against it.
There were some teachers who exhibited that courage recently. The ability to think, act quickly, and reason calmly in an insane situation. It is inside us. We were made that way. Or more correctly, we made ourselves that way, because it benefitted the species.