Probably not a bad thing to have in any fight. A hammer like this: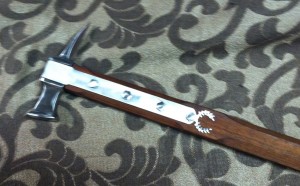 I really consider this weapon to be the ultimate self defense tool. Armed with this hammer I would be willing to face any form of unarmed, knife or stick wielding opponent. I suspect that I would be confident to face most anything outside of a gun.  I am fast and have a plan. I can hurt you through armor, If I could carry it around that way, I'd have a  spike on top but As it stands, I can use it as a cane and can carry it about anywhere I go out side of maybe an airport. As my friend Tim suggested, a solid fiber reinforced plastic version of this would make a cane you could literally carry anywhere. What a fine, always available weapon.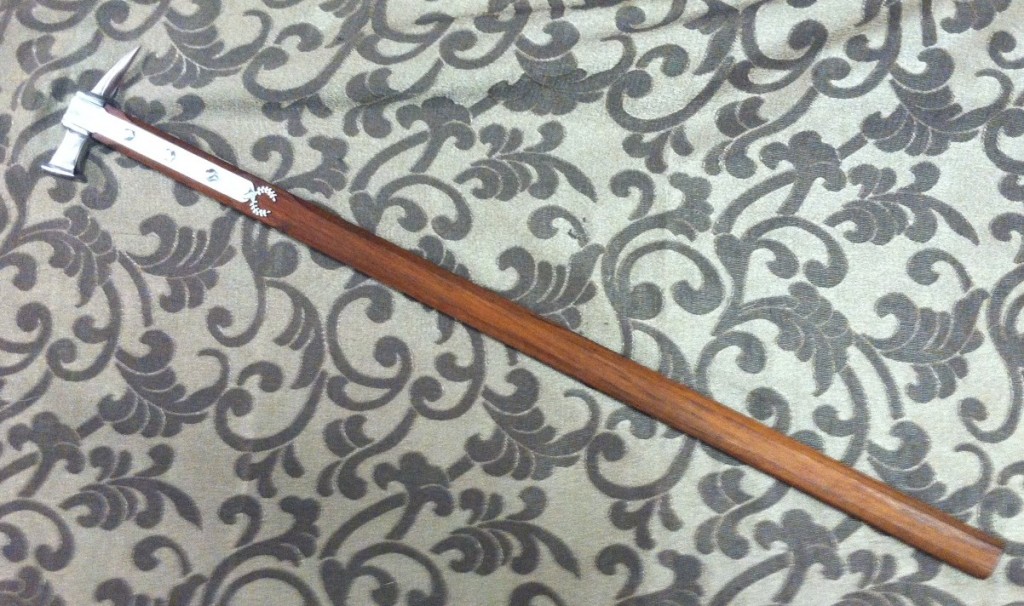 A steel buttcap with a sharp pyramidal point can shatter teeth with a thrust when the hammer is used like a spear from the spear section of Fiore's Armizare, or posta vera croce.  The hammer is swung in a fast snapping Fendedente either mandritta or reversi (from the right or the left). The reversi fendente is only possible because of the short length of the hammer. if it was a longer length weapon, I wouldn't want to make a reversi (from the left) fendent. The back of the stick bind up if you go to the ground as fiore suggests will happen if you strike these fast fendendte's.
Fiore offers no remedys for he poleax section other than the master of the posta/gaurdia.  Fiore suggests that the scholars are the scholars of the plays that arrise form the posta.  so the remedy/s is/are to move from posta to posta and see where these techniques can arrise form the positions that you and your opponents weapons fall at any one time. I believe Fiore is silent on this remedy for one of the following reasons:
The remedy that was taught was very secret and he wasn't ready to divulge it
You should be able to derive one. I think he is giving a different remedy with each description of the posta 
There are so many variations that you need to pick from i.e. many of them (there are three in the longsword, one in armored longsword , one in wrestling and bunches in dagger
The remark that if you can beat your opponents ax to the ground by all means do it. may be in of itself a remedy as he offers a number of actions that can be performed from this position. Then do the others (plays that follow).
Post Breve and Posta di Vera Croce have the hands in the other position right hand in the back and left hand by the head they oppose each other and one can moved one to the other by performing a metza volta .  One position is ideal for thrusts, one has a strong que to perform parrying actions and to use the remedy of the sword in armor.
The next pair are the conventional grip, strong hand in front by the weight. Hard mandritta fendentes, quick thrusts and attack from underneath from Fiores guardia Porta di Ferro mezzana, He says we know this game by now and the winner is the one who is smarter and quicker and more deceitful.  He offers some advise on how to use a sword against an axe in the knock 'em out of the park position of attack. Move off-line and attack the face with the thrust. Good advise.
The next two paired masters are the coda longa and the left posta di finestra. NOTE: this is not the left posta di Donna!! even though it looks like it should be– it is not because he doesn't want you to throw a left (sinestra) fendente! This technique will get you hung up. Try it!  You will find that you get yourself in a bind with the end of the axe. So instead Fiore teaches you to pass backward and move to either posta porta di ferro mezzana  or posta di donna then delivering a blow from there. This is done while moving away from your opponent to keep you safe, and it can offer an enticing point for your opponent to attack. This can be met with a big hit if you time you movement and their attempt to strike you, in your favor. It makes a good counter to coda longs which can deliver hard fendente, and face it, it is like chopping wood and can hit hard enough to push any other attack to the ground which is the first scholar of these masters.